Welcome to 4 Access Partners
Elevating Women + BIPOC Food Entrepreneurs Across America
Welcome to 4 Access Partners
4 Access Partners is an organization dedicated to ensuring that entrepreneurs in the food manufacturing industry have the expertise, training, capital, and scale needed to create a successful and sustainable business model. Our goal is to support underrepresented members of local communities, with a focus on women and BIPOC-owned retail food businesses.
We achieve results by aggregating and deploying world-class expertise from America's finest food companies to address the challenges and opportunities facing local food ecosystems.  We have begun our work in the Twin Cities Region (Minneapolis/St. Paul) with an eye to expanding to other Cities/Communities across the U.S.
4 Access Partners helps provide access to:
How We Help
Business owners face countless challenges when starting and growing their business. The food manufacturing industry is exceptionally competitive, with countless products vying for limited space on grocery stores' and supermarkets' shelves. Without access to expertise, capital, networking opportunities, and professional mentors, many entrepreneurs face an uphill battle.
4 Access Partners is determined to help our clients achieve sustainable growth. Our proven process pairs our clients with industry experts who have volunteered their time, support, and insight. With the volunteers' support, our clients can expand their operations, employ more community members, and learn more about their industry. We help small food entrepreneurs scale, standardize, and succeed. In addition to the expertise our volunteers offer clients, 4 Access Partners also assists clients in securing capital and scaling their businesses – everything needed to grow and expand.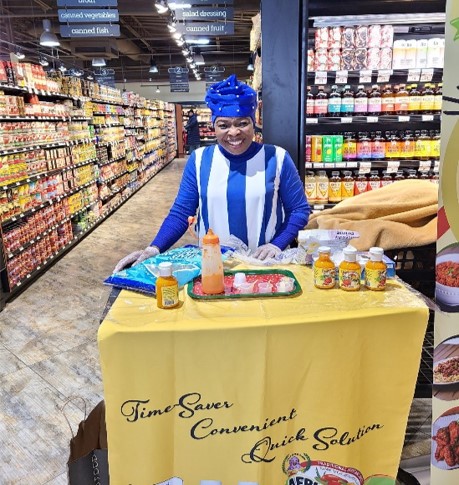 FAQs about 4 Access Partners
Who qualifies for support?
Entrepreneurs from under-represented groups and who are under-resourced.
At what stage of their business journey should entrepreneurs be in order to fully utilize the support available?
We welcome entrepreneurs who have taken early steps to demonstrate consumer appeal for their idea as well as early steps to begin producing product at a commercial level.
Who are our volunteers?
Our volunteers come to 4 Access Partners from various industry-leading companies. Corporate partners refer these individuals based on their level of expertise and interest in our Intellectual Philanthropy model. Many have decades of experience navigating the food manufacturing industry in a crucial capacity. Volunteers' expertise spans every necessary business function; we partner with engineers, food scientists, marketing and sales professionals, and other experts. These volunteers provide the critical knowledge every growing business needs – knowledge that our clients may otherwise miss out on. 
Would you like to offer your expertise to help local entrepreneurs grow their businesses? Get in touch to schedule a call and learn more.
How does an entrepreneur tap into this expertise?
We have a standard introductory call and onboarding process where we identify the needs that the food company has and then help them put these needs in priority order to be addressed.
What does typical client engagement look like?
Typically, there are 3 types of volunteers;
Client Lead – In charge of developing relationships with the Client, ensures Volunteers have what they need and provide overall project management.
Ask an Expert – Answers specific questions.  This is typically "one and done."
Project Volunteer – Project Team Members serve on specific, defined projects to assist 4AP clients.  They are selected for projects based upon their skills and experience.  Projects can last for up to 3 months.